About us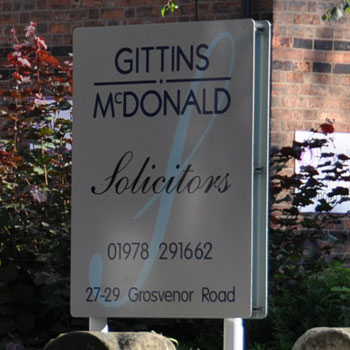 Gittins McDonald was set up in 1990 by John Gittins and Kate McDonald who were both solicitors at John Hughes, Foulkes and Reeves, an established local firm. Over the years more solicitors joined - Bharti Gittins in 1993 and Kirit Champaneria in 1995. Catherine Jagger joined us to head our criminal department in 2008 and has grown the department ever since.
John Hughes who was the Coroner for North Wales (East and Central) joined us in 1999 and continued his coronial duties from our offices which were then located on High Street, Wrexham. In 2013 after many years as deputy Coroner John Gittins left the firm to take up what was now a full time Coronership position.
July 2013 saw Gareth Kelly join us together with Sian fisher and a large conveyancing team which was based at 12 Grosvenor Road. The following year in the summer of 2014 we moved all of our litigation operations from our old High Street offices to our new site at 27-29 Grosvenor Road. The volume of work in our conveyancing department needed the recruitment of additional staff and Patricia Hughes joined us in 2014. Aimee Phoenix who started at the firm as trainee, qualified in 2006 and is now a Director, moved her focus to conveyancing as well.
Sadly, Kate McDonald was unable to continue working due to illness and resigned from the practice in 2016. Over the years Kate had built a formidable reputation which is still maintained by a busy family department based at 27-29 Grosvenor Road headed by Joshua Williams.
We have over the years evolved into one of the leading firms in Wrexham. We provide a service which we perceive to be second to none. We never lose sight of what is the most important aspect of our work, listening to our clients, understanding their needs and ensuring that they get the outcome that is right for them.
Gittins McDonald became a Limited company in January 2022. The Directors are Gareth Kelly, Aimee Phoenix and Joshua Williams.